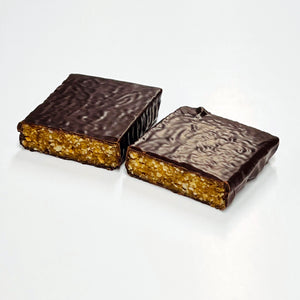 A gourmet healthy clean snacking bar coated in an ultra thin layer of dark chocolate that tastes amazing!
We were sick of these protein and energy bars on the market that are tasteless, dry and full of all sorts! So we made our own using the best of the best clean ingredients. 

A new recipe with four ingredients! 
Ingredients:

Medjool Dates - the king of dates from Jordan
Organic Cashew Nuts - from Goa with amazing flavour
Dark Chocolate

Sea Salt
Thats it!
e50 grams 
Nutrition Per Bar: 
Kcal
217.6


Fat
of which saturates

12.3
2.6g

Carb 
of which sugar 

19.1g
15.7g

Protein 

2.5g
Salt
0.5g